Philadelphia International Airport (PHL)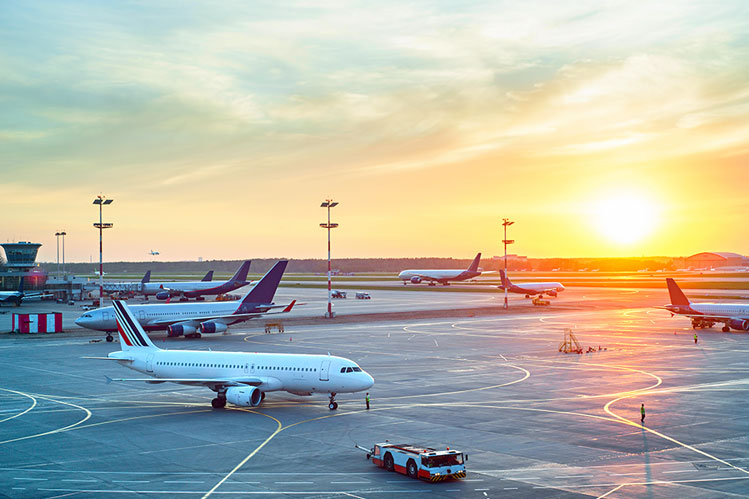 This summer, where are you heading — Toronto, Dublin, Miami, or Rome? Philadelphia International Airport (PHL) is ready to serve you, catering to all your travel needs with upgraded facilities, easy access from check-in to boarding, lavish lounge comfort, and more. Located 7 miles from downtown Philadelphia, Philadelphia International Airport is the largest hub in the city that serves millions of passengers yearly.
There are more than 25 airlines that offer daily departures to over 140 destinations around the world, including all major domestic carriers. Aer Lingus and Air Canada Express fly out of PHL. Other airlines include Alaska Airlines, American Airlines, American Eagle, British Airlines, Delta Air Lines, Delta Connection, Frontier Airlines, Icelandair, JetBlue, Lufthansa, Qatar Airways, Southwest Airlines, Spirit Airlines, Sun Country Airlines, United Airlines, and United Express.
Orlando, Florida - American, Frontier, JetBlue, Southwest, Spirit
Atlanta, Georgia - American, Delta, Frontier, Southwest, Spirit
Miami, Florida - American, Frontier, Spirit
Charlotte, North Carolina - American, Frontier
Dallas/Fort Worth, Texas - American, Frontier, Spirit
Chicago–O'Hare, Illinois - American, United
Fort Lauderdale, Florida - American, JetBlue, Southwest, Spirit, Frontier
Denver, Colorado - American, Frontier, Southwest, United
San Juan, Puerto Rico - American, Frontier, Spirit
Tampa, Florida - American, Frontier, JetBlue, Southwest, Spirit
Busiest International Routes to and from PHL
London–Heathrow, United Kingdom - American, British Airways
Toronto–Pearson, Canada - Air Canada, American
Cancún, Mexico - American, Frontier
Dublin, Ireland - Aer Lingus, American
Montego Bay, Jamaica - American, Frontier
Punta Cana, Dominican Republic - American, Frontier
Montréal–Trudeau, Canada - Air Canada, American
Doha, Qatar - Qatar
Frankfurt, Germany - Lufthansa
Rome–Fiumicino, Italy – American
Cheap Flights to Philadelphia
It's easy to travel to Philadelphia. Getting through customs is a walk in the park once you've landed. The average wait time for Passport Control passengers is monitored by the Office of U.S. Customs and Border Protection. Philadelphia International Airport strives to reduce this wait time. To ensure a quick experience, the airport has 24 Automated Passport Control kiosks (APC) in Terminal A-West's passport control area.
Philadelphia International Airport Parking
The Parking Spot is conveniently located at 7601 Essington Avenue and offers travelers the most convenient and affordable parking solution. The Parking Spot can park for up to half the parking price at an airport. Parking at TPS is just minutes away from PHL and includes a complimentary shuttle service. Other facilities include:
Reservations and pre-pay are required to access the lowest rates on The Parking Spot app and TheParkingSpot.com
Shuttle service from the parking lot to the airport every 5-7 minutes
The Parking Spot app allows you to track your shuttles
Luggage assistance
Bottled water is free
Soft Hands Car Care is available for certain parking types
EV charging stations
Parking options: Covered and uncovered
We are open 24 hours a day, 365 days per year
The Parking Spot app allows you to check in and out quickly
Accepts reservations to reserve a spot in advance
Valet parking with your car ready for you upon your return
Philadelphia Airport - Terminals
PHL comprises seven terminals: A-West, A-East, B, C. D. E, and F. This allows passengers to disembark cheap flights to Philadelphia and walk from Terminal A to Terminal F, if necessary.
The airport layout is so convenient that you can access all terminals from the road. This allows curbside pick-up/drop-off and easy access to ground transportation, including SEPTA stations (detail information under Transportation Options).
PHL's unique layout for departures and arrivals is not common in other airports. They are often located on different floors in the same building. Philadelphia Airport departures operate from the main terminal, while baggage claim is lays towards Highway.
Such convenience would allow a steady movement of passengers; it can also be untimely for those who need to collect their luggage for onward journey.
Cheap Flights from Philadelphia - things to know
Here are some things to remember if you fly out of Philadelphia International Airport (PHL).
Busiest days: Sunday, Saturday, Wednesday
For domestic, cheap flights from Philadelphia, arrive at the airport no later than 2 hours before departure; international flights should be at least 3 hours before departure.
Checkpoint A-East (Gates A 1-13), A, C, and D-E have dedicated TSA Precheck lanes. Checkpoint C is TSA pre-check only. It is open from 4:15 am until 8:00 pm.
American Airlines passengers should check their departure and terminal before arriving at the airport. This will let you know where you can check-in and pass through TSA screening. AA departs from Terminals A-West and A-East
After you have cleared security, all gates and terminals are open to you. The distance between the F Terminal and C Terminal is approximately 15 minutes. American offers free shuttles between Terminals C, F, and Terminals F.
Call 878-223-0733 to learn about Philadelphia airport flights, airport rules, and what you can and cannot carry in your carry-on.
Check the website of your airline to find out their baggage policy. You can also contact them directly. Call Urban Vacationing on +1-571-378-7984 if you have any questions about airport security or the baggage restrictions for carry-on and checked bags.
You can find the free cell phone lot within a minute of all bag claim areas. Do not wait for your party to be collected on the roads. Please do not leave the lot until your passengers are at the curbside with their luggage.
Philadelphia International Airport Hotels
Marriott Philadelphia Airport
One Arrivals Road, Terminal B, Philadelphia, Pennsylvania 19153 Ph.: (215)-492-9000
Sonesta Select Philadelphia Airport
8900 Bartram Avenue, Philadelphia, Pennsylvania 19153 Ph.: (215)-365-2200
DoubleTree by Hilton Philadelphia Airport
4509 Island Avenue, Philadelphia, Pennsylvania 19153 Ph.: (215)-365-4150
Philadelphia International Airport - amenities & facilities
PHL offers many dining options and shopping options. There are 7 Pet Ports in every terminal along with animal relief areas on the Departing Flights Road, outside the baggage claim building.
Post-security nursing parents will find a Mamava Suite in Terminal A-West. Also, Minute Suites are positioned towards the secure-side walkway linking Terminals B and A-East. For the first 30 minutes, the suites are available at no charge. AT&T offers wireless internet access to PHL for no cost.
ATMs - Terminal A - West, Terminal A-East, Terminal B, Terminal C, D, E, and F Charging Stations - Delta Air Lines (Terminal D), Southwest Airlines (Terminal E), and JetBlue (Terminal E) also offer charging stations at their gate.
Free Wi-Fi - The Airport offers free Wireless Internet access, provided by AT&T, every day.
Lost and Found - Located toward Communication Center, the Lost & Found can be helpful for lost baggage and other items.
Mothers' Nursing Stations - Mamava has comfortable benches, a folding table, mobile pod. The other one is Minute Suites Private Rooms to breastfeed. Find them at Terminals B and A East.
Philadelphia Airport Flights - FAQs
Q. Is PHL an International Airport?
A. PHL International Airport is an international airport that offers service to more than 140 destinations worldwide and more than 500 departures per day.
Q. Where is Philadelphia Airport?
A. Philadelphia Int'l Airport is roughly 7 miles from Philadelphia in Tinicum Township.
Q. How far is the airport from Liberty Bell Center?
A. PHL lies approximately 12 miles from Liberty Bell Center.
Q. Which airlines fly to PHL?
A. PHL is served by over 25 airlines, including Aer Lingus and Air Canada Express, Alaska Airlines, and American Airlines.
Q. Is there a place for mothers to nurse in the PHL?
A. PHL has free nursing pods and suites — Mamava and Minute Suite.
Q. Is there a play area or kid-friendly area in PHL?
A. Philadelphia Int'l Airport has a kid-friendly zone. Terminal A-East has a kid's zone with a jumbojet, a control tower, and a tug for kids.
Also, read our blog Transfer a Plane Ticket.
For immediate assistance
kindly call on below number
878-223-0733
OR, We will contact you within 24 hours.