Spirit Airlines Unaccompanied Minor Policy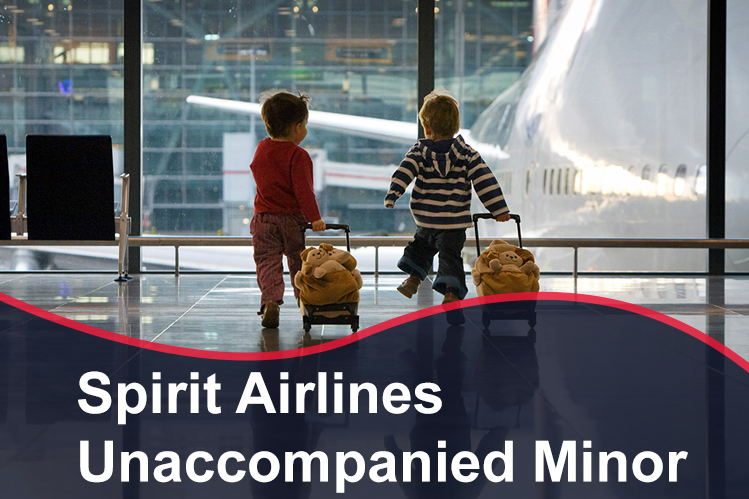 Are you planning to fly your child with Spirit Airlines without an accompanying adult? If yes, you must be familiar with a few policies and the fees you'll need to pay. This post will help you with all you should know about Spirit Airlines unaccompanied minor policy.
What is the Spirit Unaccompanied Minor Policy?
Spirit Airlines allows children aged 5 to 14 to travel alone as unaccompanied minors without any adult.
Spirit does not permit children aged four years and younger to travel alone.
Children aged 15 years or more are considered unaccompanied minors while flying alone. However, Spirit unaccompanied minor services are available, but they must show a photo ID or birth certificate to confirm their age.
Spirit Airlines Unaccompanied Minor Fee
Spirit Airlines unaccompanied minor service charge is $100 for each trip, which includes a complimentary snack and drink. The fee might seem expensive, but it is in line with other legacy carriers that charge $100.
How Do I Book a Spirit Unaccompanied Minor?
To book a flight for an unaccompanied minor with Spirit, do not hesitate to call Urban Vacationing at +1-571-378-7984. Provide valid details to our travel experts to create a reservation without hassles. Ensure you provide the correct name and date of birth and get all the relevant information regarding your child's solo travel.
Spirit Unaccompanied Minor Process - Reservations
If you are booking a flight for your child, the below helpful tips will allow you to book unaccompanied minor flights on Spirit Airlines:
Check-in Process
Check-in at a minimum of 90 minutes before departure as it will take time to process the unaccompanied minor form and get the lanyard printed out at the airport.
When you do check in at the airport, a person with a valid photo ID must fill out an unaccompanied minor form before allowing the child as a passenger as per Spirit Airlines unaccompanied minor policy.
The form is inserted into the unaccompanied lanyard that the unaccompanied minor wears during the entire journey and is needed by Spirit Airlines employees to identify unaccompanied minors.
How to Reach the Boarding Gate?
The person who drops off the child at the airport must make an appointment for a gate pass at the counter for reservations, escort the child towards the gates, and then remain at the gate with the unaccompanied minor child until the flight departs.
Gate passes are only given to non-travelers with valid government photo IDs.
As per Spirit Airlines minor policy, if you're dropping off a minor who is not accompanied, you must obtain the gate pass, allowing you to go through the security and then to the boarding gate.
Boarding
Spirit allows unaccompanied minors to board the plane during pre-boarding. This process of boarding can be slightly more relaxed.
If the minor arrives late, they will become the last person to board. It is a reminder of the necessity of arriving at the airport on time.
Departure
According to Spirit Airlines unaccompanied minor flights, the person who drops off the child must stay at the terminal for 15 minutes after the flight departs if something occurs and the flight needs to return to their gate.
Arrival
Once the flight reaches its destination, the child will be escorted with the help of a staff member and handed over to the designated person mentioned in the unaccompanied minor form.
Flights arrive a few minutes earlier; therefore, be at the airport 30-60 minutes before the scheduled landing time.
Drinks and Snacks
Spirit Airlines will offer your child a meal and drink onboard, but you are the one who knows your child's appetite, so pack some snacks your child loves. Also, consider the types of entertainment they'll require to keep them entertained on a plane.
Parting Thoughts Before Flying Solo
Children of a specific age can travel with Spirit Airlines and be eligible for unaccompanied policies. However, Spirit Airlines unaccompanied minors cannot travel on non-direct flights or connecting flights.
Parents can always seek advice and information from Urban Vacationing for a safe and easy transition for their child traveling alone.
Also, read our blog Spirit Airlines Flight Cancelled – What's Next?.
For immediate assistance
kindly call on below number
878-223-0733
OR, We will contact you within 24 hours.