United Airlines Pet Policy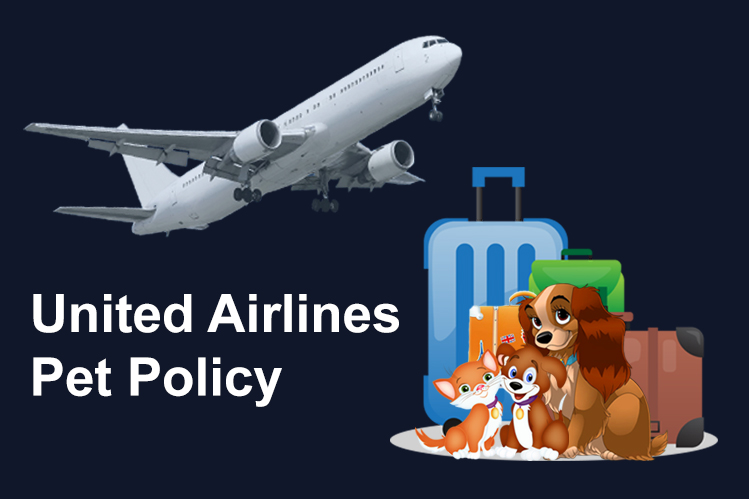 Traveling can be both dreadful and fun, not only for humans but for pets too. Allowing your pet to fly with you can be fun. Still, according to United Airlines pet policy 2023, there are specific rules that you have to follow to avoid nuisances and surprises while carrying your pets onboard.
If you plan a trip with your pet on United, adhering to simple rules will make your traveling enjoyable. However, certain breeds of dogs with short-snouts are not allowed to fly on planes. In this piece, we'll cover crucial points you need to know regarding the pet policy for United Airlines.
Fly with Pet Safely on United
United Airlines is a people's favorite due to its easy policies and reasonable airfares. Based in Chicago, Illinois, United is one of the major carriers operating in 48 countries and easily allows passengers to fly with a pet more than any other US airline. Being one of the largest airlines in the US, they welcome passengers to bring pets in the cabin and as checked baggage.
United Airlines also understands your requirements and ensures your pet's safe and comfortable journey. The airline introduced the United pet policy as their foremost priority for the well-being of pet animals, both for international and domestic flights.
United Pet Policy
United Airlines has introduced the United Air Pet Policy 2023, which includes different rules to ensure the safety of pets as priority. United Airlines pet policy for domestic and international flights is precisely identical. However, it could have some limitations and is thought to be the most appropriate for frequent travelers.
It is essential to adhere to specific rules and regulations to ensure the most enjoyable travel experience for your pet.
1. Dogs will only be allowed to travel to the U.S.A, if they have the following:
A valid vaccination certificate for rabies
Are six years of age or more
Are healthy
Are it in the correct plane
Have evidence of a microchip
2. Service animals can only be permitted on United Airlines when qualified disabled people accompany them.
3. Pets cannot travel with minors that aren't accompanied with owner
4. United Airlines no longer accepts emotional support dogs on its flights.
5. When flying within the United States, United Air accepts domestic pets of all sizes, like dogs, puppies, cats, small household birds (apart from Cockatiels), and rabbits (except in Hawaii).
You can call to book your flight without any hitch. To make reservations for your pet to fly in a cargo or cabin from the United States, call Urban Vacationing PetSafe Desk at +1-571-378-7984 to get additional and vital information regarding pet travel, import fees, procedures, and more.
United Pet Policy in Cabin
The pet kennel must fit under and be placed right before you.
For domestic flights, kittens or puppies should be two months old. For International flights, the puppies or kittens should be kept for four months because of the rabies vaccination requirements under the age policy.
According to United Pet Policy in Cabin policy, if you're carrying pets, you need to purchase your ticket as well as the pet's ticket separately and pay the additional charges.
It is essential to adhere to the weight limit guidelines for the pet completely.
Your pet should be inside the kennel, the cabin, onboard, or at an airport.
Pets won't receive oxygen on United Airlines.
The Pet tag that is attached is required
If you require additional information before making a reservation, please get in touch with our agent responsible for reservations.
If you're traveling in the US from a different country, you must check the health declaration and vaccine requirements.
Be aware that United Air and United Express flights are subject to the same pet policies. If you're traveling and switching flights, you must look up each airline individually. Additionally, minors are not allowed to travel with pets.
United Airlines Pet Cargo Policy & Cost
United Airlines has partnered with American Humane to improve its pet transportation services, PETSAFE. If your pet cannot travel inside a plane, you can avail of United Air pet cargo. Pet-safe offers travel to over 3000 destinations.
Pets weighing between 2kg and 350kg can be carried.
Prepaid bookings.
Additional pet handling and kenneling charges would incur.
As per United Airlines pet policy, there's a service charge of $125 each way (non-refundable and non–transferable), an additional $125 if there's a stopover of more than four hours within the U.S and 24hrs outside the U.S. United Airlines will only admit cats and dogs as in-cabin pets.
Smaller dogs, cats, rabbits, and house birds can accommodate in one cabin by paying a one-way fee.
A pet traveling in the cabin should be carried in a hard (17 inches long, 12 inches wide, 7.5 inches high) or soft-sided kennel (18 inches long, 11 inches wide 11 inches high) that must fit completely under the seat and remain there till de-boarding.
While flying within the USA, PetSafe Program offers climate-controlled and convenient holds for pets.
FAA rules prohibit unchecked pets from traveling.
United pet policy is strict with in-cabin pets, but the cost is similar to other airlines.
The cargo has a live camera and flight tracker to monitor the pet during the journey.
United Airlines Pet Policy - Domestic & International Flights
This part might seem complicated when it comes to airline rules regarding pets. Booking your pet on a United Air domestic flight is an easy process. You need the perfect kennel, rabies vaccination, and a health certificate within ten days to travel.
Nevertheless, international travel becomes a bit stressful, and you might require a professional pet-shipping company and other import requirements as per United Airlines pet policy 2023. Please ensure you heed every detail to avoid any issues with your pet booking.
Also, read our blog How Do I Contact Etihad Airways?.
For immediate assistance
kindly call on below number
878-223-0733
OR, We will contact you within 24 hours.