The 7 best places to go for this Thanksgiving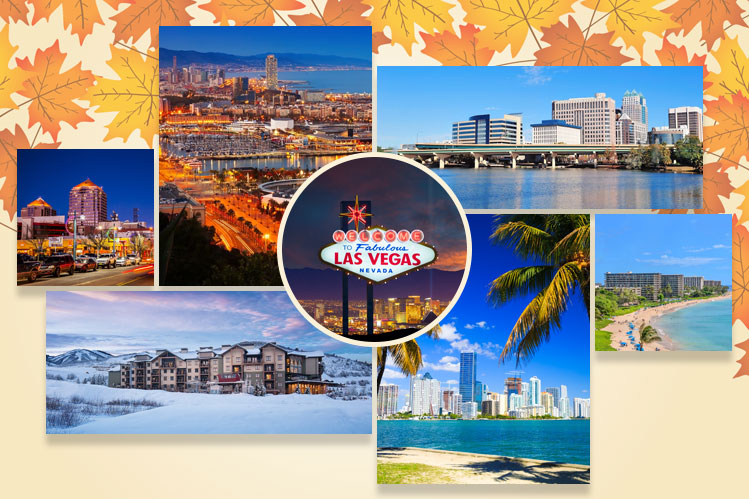 A time for multigenerational gatherings at home, time for an entire day spent cooking Turkey, baking the pies, and cleaning the mess afterward. This is what Thanksgiving looks like for you every year. But let's break the ordinary this year; oh, of course not; we are not telling you to leave your treasured traditions behind but telling you to take a break this long weekend. Pamper yourself, your soul, and cleanse your mind.
Yes, we are very much talking about the long weekend travel break that you need to take to replenish your Thanksgiving getaway. And for that, right below, we present to you the top places to go for this Thanksgiving, 2023
The top 7 best destinations to travel this Thanksgiving
Orlando, Florida
Welcoming you to the "Vacation Capital of the World" for your Thanksgiving vacation ideas. Orlando has everything to offer you, from beautiful weather to world-famous theme parks, family-friendly dining, championship golf courses, and some really great family-friendly festive celebrations. There are a variety of theme parks, such as Walt Disney World Resort, Universal Orlando Resort, and SeaWorld Orlando; you can go out, have fun, and celebrate the day like you have always wanted for a fun day to go as. The city will surely offer you the best fun and celebration.
New York City, New York
Whenever you want to travel somewhere for a celebration, New York just finds its way to the list of destinations. The Macy's Thanksgiving parade makes this day very special in New York, which is simply one of the best NYC events of the complete winter holiday season. Once the parade is over, you must savor a Thanksgiving feast in Manhattan at one of the beautiful and well-served eateries and shop for Black Friday deals. NYC just has so much to offer you that you will run out of energy to experience. So, just book the flights for this place this Thanksgiving.
Park City, Utah
It is the "Winter Favorite Town," y'all! Park City, everyone, it is the ski season that's about to open the doors for us, and now it is the time when we can celebrate Thanksgiving skiing and snowboarding, of course. You should celebrate it with your friends and family at the best hotels, Historic Main Street, and 7,300 skiable acres perfect for creating the best holiday traditions.
Miami, Florida
The best and the most favorite destination for Thanksgiving is Miami, y'all! It has got 12 miles of endless recreational and entertainment opportunities, which certainly include sunbathing on the white sandy beaches, swimming, sightseeing, boating, fishing, golfing and tennis, world-class dining, shopping, and nonstop nightlife. Miami is a place that has got the vibe for you when you are excited, melancholic, nostalgic, and complete, basically for all your emotions. You can easily spend your complete day with the beautiful attractions that are in the city, the trendy restaurants for your food cravings, lively nightclubs, and beach hotels.
Las Vegas, Nevada
For a Thanksgiving weekend escape, Las Vegas should easily climb the list as it has always lived up to the title "The Entertainment Capital of the World." The city has lively casinos, nonstop gambling, world-class dining, live entertainment, and everything else to get you groovy. And the best part is that Las Vegas is a lot less crowded during Thanksgiving weekend than other holiday weekends throughout the year. There are also various attractions waiting for you to see, such as The Mob Museum, Neon Museum, Pinball Hall of Fame, Las Vegas Natural History Museum, and National Atomic Testing Museum. You know where you have to book the flight tickets for now.
Santa Fe, New Mexico
Santa Fe's unique blend of Native American, Hispanic, and Anglo cultures creates a one-of-a-kind Thanksgiving atmosphere. Explore the city's historic adobe architecture, visit art galleries, and savor the flavors of New Mexican cuisine, including green Chile stew and tamales. The Land of Enchantment will captivate you with its rich cultural heritage.
Maui, Hawaii
For Thanksgiving with a tropical twist, head to Maui, Hawaii. Picture yourself celebrating the holiday on a pristine beach, surrounded by swaying palm trees and the sound of gentle waves. Maui offers outdoor adventures like snorkeling, hiking, and exploring volcanic landscapes. Enjoy a luau feast with traditional Hawaiian dishes like poi and kalua pig and be thankful for the island's natural beauty.
Wrap up to our Thanksgiving Destinations
So, which Thanksgiving destination piques your interest the most? Whether you're a wine enthusiast, history buff, or beach lover, there's a perfect getaway waiting for you to explore. However, whichever is going to be the destination, you know from where you are supposed to book your flight deal; yes, it's Urban Vacationing. You are going to get the best of the best deals at just one dial on +1-571-378-7984. And, whatever your destination, leave your airline reservation, hotel reservation, and car rentals with us. We even have the best Thanksgiving travel deals
Make this Thanksgiving one to remember by embarking on a journey to one of these fantastic destinations. Happy travels!
For immediate assistance
kindly call on below number
878-223-0733
OR, We will contact you within 24 hours.