Daytona Beach – A Family Vacation Guide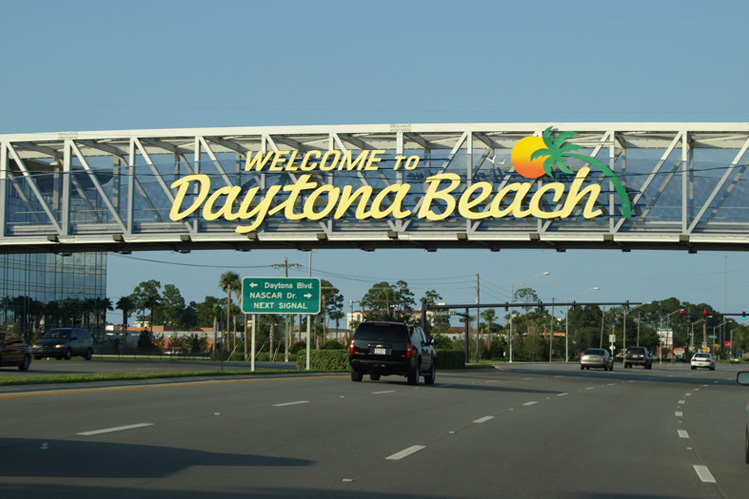 Located on Florida's Atlantic coast, Daytona Beach is a favorite beach destination in America. Over 9 million people visit Daytona annually to enjoy the many attractions —adrenaline, sun, food, adventure, and family activities.
Before you take your place in the bleachers at the International Speedway's Daytona 500, make sure to visit the Motorsports Hall of Fame and learn more about
If you aren't passionate about motorsports, Daytona Beach is still a great beach resort. You can find enough beach space for millions and great bars and restaurants such as the Oyster Pub or Caribbean Jack's.
Add to that that Daytona lies within an hour from Universal Studios and Disneyworld, and you have a fantastic family destination. So bring your beach towel and be ready to enjoy a Florida vacation. Read our Daytona Beach travel guide to know more about this fantastic place.
How to Reach Daytona Beach?
For a flight to Daytona Beach, visitors will fly into Daytona Beach. Daytona Beach (DAB) is just 2.9 mi from the city's center. Visitors can fly directly into Daytona Beach International Airport via Delta and American Airlines year round, with seasonal non-stop flights via American Airlines from Dallas/Ft. Worth (DWF), Philadelphia (PHL), and Washington Reagan National Airport (DCA). For more Daytona Beach information, call Urban Vacationing flight and vacation experts.
Best Time to Visit Daytona Beach
Before planning your Daytona Beach itinerary, it's essential to know the weather blueprint of the place. March to May is the best time to visit Daytona Beach. The crowded Speedweeks is a series of events and races that lead up to the Daytona 500, a 500-mile-long NASCAR Cup Series motor race held annually at Daytona International Speedway in Daytona Beach.
You'll also enjoy low rates because of the scanty tourists from February. Bike Week is March's busiest time. You may also see students enjoying the surroundings in March and April when spring break is in full swing. According to Daytona Beach tourist information, the weather is also unbelievably good - it's usually in the 70s during daylight.
Things to Do in Daytona Beach
Daytona Beach has plenty of things to do, whether traveling solo, with friends, family, or with loved ones. You're never far from the many adventures, no matter where you live in Daytona Beach. With Daytona Beach vacation packages, you can explore the many arts, culture, history, shopping, and sporting events that are part of Daytona Beach's reputation for motorsports and beaches. Here are the top things to do:
Climb Ponce Inlet Lighthouse - Florida's tallest lighthouse
Explore Lighthouse Point Park
Grab lunch or dinner at Off The Hook at Inlet Harbor
Try everything at Donnie's Donuts
Drive along Ormond Beach Scenic Loop & Trail
Explore Bulow Creek State Park
Take a Peaceful Paddle at Tomoka State Park
Visit the unique Ormond Beach Arts District
Skydive at World Famous Skydive DeLand
Tour Blue Spring State Park for kayaking, swimming with manatees
What to Eat at Daytona Beach?
During your Daytona Beach vacation, there are many options for dining out. There are many Asian restaurants in Daytona, including Neelam's Indian restaurant and Sapporo Japanese Steakhouse. But the star of the show is Italian cuisine. Rossellini's and Anna's Trattoria are known for their authentic Italian meatballs and pizzas. They also often feature fresh Florida seafood. Your options during DAB vacations include:
Donnie's Donuts - Ormond Beach
Caribbean Jacks' - Daytona Beach
Oyster Pub Sports Bar & Grill - Daytona Beach
Crabby Joe's Deck & Grill - Daytona Beach Shores
Angell & Phelps Chocolate Factory - Daytona Beach
Racing's North Turn - Ponce Inlet
1888 At The Plaza Resort - Daytona Beach
Getting Around Daytona Beach
Daytona Beach can be reached best by car. So bring your most refined set of wheels and enjoy this automobile-obsessed town. Traffic shouldn't be a problem unless it is a race day.
You can drive to the beaches! Park your car on the beach in designated areas for a small daily charge with your Daytona Beach packages.
Flying to Orlando International Airport (MCO) is a good option. It's located about 70 miles southeast of Daytona Beach. A large terminal at Orlando Airport offers low-fare and commercial flights.
The Daytona Beach-Orlando Transit Service transports tourists between the airport and Daytona Beach hotels or resorts. You might be able to find a flight to tiny Daytona Beach International Airport (DAB) if you are lucky.
Another option is the Orlando-Sanford International Airport (SFB), located 35 miles south of Daytona Beach.
Best Places to Stay in Daytona Beach
There are more than 200 properties in the Daytona Beach area and over 12,000 rooms. It's easy to find the perfect place to stay in Daytona Beach, with oceanfront cottages, resorts, and everything in between. There are many accommodations to suit your needs and budget, including resorts at Daytona Beach, hotels and motels, bed and breakfasts, condo hotels, and vacation rentals. Are you looking for Daytona Beach hotels that have kitchens or kitchenettes in your hotel? The place also offers pet-friendly accommodations! Your Daytona Beach recommendations include:
Home2 Suites by Hilton Ormond Beach Oceanfront
Days Inn by Wyndham Daytona Oceanfront
Atlantic Ocean Palm Inn
Super 8 by Wyndham Ormond Beach
Coastal Waters Inn
Best Western Castillo Del Sol
Makai Beach Lodge
Ocean Breeze Club Hotel
Book Flight to Daytona Beach with Urban Vacationing
Urban Vacationing will ensure you get the best prices on flights to Daytona Beach with up to 70% off. In addition, you can be sure that you will get the best price on flights to Daytona Beach with our Best Price Guarantee. We also offer 24/7 customer support so that you can reach us anytime during your trip.
For more information on Daytona Beach flights and vacation packages, do not hesitate to call us at +1-571-378-7984 and get access to discounted flight deals and unpublished fares and book with ease.
Also, read our blog outh Padre Island - Exploring a Hidden Gem.
For immediate assistance
kindly call on below number
878-223-0733
OR, We will contact you within 24 hours.