Key West – A Vacationer's Paradise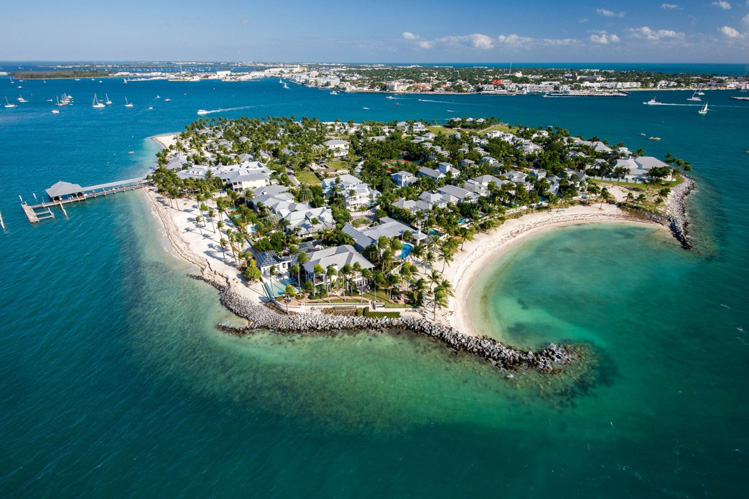 Key West stretches from the southernmost point of Florida's archipelago and extends to the southwest, dotted with island spits and beaches connected by more than 120 miles along the Florida Keys Overseas Highway —and Key West Florida is a world of its own.
The tiny island town is linked through conch-style architecture, hammocks, and fishing. The western end of the archipelago Key West is a different story. With candy-colored homes, lush palm trees, and coral reefs. Key West adds some extra energy to the laidback lifestyle as a tourist's paradise. Thanks to its drag queens, coastal cuisine, and captivating nightlife.
Only here can you witness eighty feet underwater shipwreck, sip rum at one of the distilleries, and explore the deep history and quirky culture — all in one day. Book your flights to Key West at ease with huge savings and enjoy a vacation unlike any.
How to Reach Key West?
You can fly, drive or take a boat to Key West. Key West International Airport, the city's airport, is serviced by all major carriers, including Delta, American Airlines, USAir and United, Southwest, and Cape Air.
Charters are also available to various cities in Florida and the Bahamas. Ferry service is available between Key West and Ft. Myers. Begin your vacations with Key West flights from Urban Vacationing and cherish good times with your family.
Best Time to Visit Key West
Key West weather offers a coastal atmosphere, which provides warm temperatures all year round. January's average high temperature is around 70 degrees, making it a great destination, with cheap flights to Key West sell out like hotcakes.
The peak season for tourism in Key West Florida starts right after the Christmas season in December and runs until May. In winter, it's not rainy; however, when clouds make a breakthrough with showers, they're gone the next day.
In summer, when temperatures rise, July's average temperature is 86 degrees, there is a decrease in crowds somewhat, and Key West hotels reduce their rates, making it the perfect time to travel when you're seeking lower prices for EYW flights and aren't averse to high humidity and heat.
Atlantic hurricane season lasts from June 1 until November. 30. This implies more stormy weather and the potential for dangerous storms, the peak hurricane season of Key West is between August 15 and October 15.
Things to Do in Key West
Suppose you're looking to throw an event. In that case, you'll discover that Key West, like no other island, is the place for the everlasting holiday, where nobody wears a tie or watch and where the expression "hasta manana" (means until tomorrow) could have been coined. Do not forget to explore Key West restaurants and relish Floridian fares.
It appears that the sun never ceases to shine in this region of Florida and makes the island an ideal location for sunbathers, deep-sea divers, fishermen, and motorcyclists with several things to do in Key West.
Reserve Key West airfares and enjoy fresh seafood; look at the jugglers performing in Mallory Square and enjoy another margarita. It's time to plan your next day tours and excursions.
Shopping in Key West
If you walk through the roads in Key West and you'll soon realize that the primary island souvenir is a cheap T-shirt. If you can get past the sloppy clothing, you'll be able to find plenty from bathing costumes, trendy sandals, and sunglasses throughout Duval Street.
With great Key West weather, go to Cigar Alley between Front and Greene streets to purchase a memorabilia cigar rolled through by Cuban immigrants.
Entertainment and Nightlife in Key West
The moment the sun begins to sink in Key West, sunset celebration is in full swing in Mallory Square. Jugglers, magicians, and one-person groups entertain the crowds every evening when the sun tints the sky and the waves with purple and orange.
During the evening, most Key West hotels on Duval Street buzz with live entertainment, wet T-shirt competitions, and a wide selection of frozen fruity drinks.
Some of the most popular bars are Sloppy Joe's, believed to have been a former Hemingway favorite, and Hog's Breath Saloon. Soak up all the fun with Key West flight deals from Urban Vacationing and build a memorable getaway.
Getting Around Key West
Shuttles departing from Miami International Airport (MIA): Keys Shuttle and Florida Keys Express Shuttle offer door-to-door shuttle services starting from Miami International Airport.
Bus Service departing from Miami: A Greyhound Keys Shuttle connects the Miami Bus Station and runs to Key West. Miami-Dade Transit Route 301 Dade-Monroe Express runs from Miami's West Palm Drive/3rd Avenue to Mile Marker 50 in Marathon. From there, Lower Keys Shuttle in Key West Lower Keys Shuttle connects Marathon to key points located in Key West.
Within Key West: Some islands provide their transportation system in the Keys. Freebee Islamorada's fleet of electric vehicles on-call can transport passengers across the four islands that make up Islamorada. In Key West, the Duvall Loop is a no-cost bus service that makes 18 stops within Old Town.
Taxis: Local cab firms generally serve their local area with taxis. Taxi stands are available for passengers who arrive from Key West International Airport (EYW).
Uber or LYFT: The ride-sharing service Uber or LYFT each have their locations throughout the Florida Keys.
What to Eat in Key West?
With tickets to Key West, you can explore a wide variety of fresh seafood available on the region's menus, including lobster, stone crab conch, and fish. In the northern part of the chain of islands, food is often the form of a Caribbean change, with coconuts and mango featured on the plate (and appearing in cocktails too).
The food served in Key West shows a distinctly Cuban influence, particularly at breakfast, when a cup of cafecito with some toast can help ease the tension that arose from the previous night.
Indeed, the dining experience at one of the Key West restaurants would not be complete without the key lime pie. It's a popular dessert in Key Largo, Mrs. Mac's Kitchen serves the popular pie, and Islamorada's Green Turtle Inn has diehard supporters.
If you're in Key West, several shops claim to offer the best slice in town, some with meringue miles high while others have a tiny portion of whip cream. With Key West air tickets, it is recommended to do a research-based test and then go for it.
Book Flights to Key West
Booking airline tickets to Key West with Urban Vacationing helps ensure you get the cheapest available tickets to Key West. The main airport serving the Key West region is the Key West International Airport.
With our best price guarantee, you know that we can provide you with fantastic low prices on flights to Key West, and with our 24/7 customer service, you can always reach us at +1-571-378-7984 during your trip for any assistance.
Get access to unpublished fares, discounted tickets to Key West, cheap Key West air tickets, and money-saving deals for a memorable vacation unlike any.
Also, read our blog Daytona Beach – A Family Vacation Guide.
For immediate assistance
kindly call on below number
878-223-0733
OR, We will contact you within 24 hours.